Prof. Dr. Héctor Pérez-Brignoli
Vita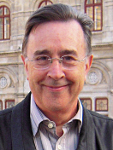 Born at the end of 1945, I was educated in Sociology and History at the Universidad de Buenos Aires in Argentina (1963-1967) where I had the opportunity to learn with professors José Luis Romero and Tulio Halperín Donghi. Later (1968-1975), I did my graduate studies in Paris (École des Hautes Études en Sciences Sociales, VI section, and Université de Paris I), where I worked under the direction of Monsieur le Professeur Pierre Vilar obtaining a Ph.D. in Economic History in 1975.
Since 1974, I have been working at the Universidad de Costa Rica, first as a Visiting Professor, later as an Associate and attaining Full Professorship of History in 1982. I retired in 2003 and was appointed Emeritus Professor in 2004. I have served in many academic and professional positions at the university and abroad, including scientific committees of the IUSSP (International Union for the Scientific Study of Population) and steering committees for the organization of International Conferences in Mexico, Brazil and Argentina.
My research and publications cover the fields of Latin American and Central American History, Research Methodology, Historical Demography and Comparative Development. My publication list registers 10 books as an author or co-author, 8 books as an editor and more than 80 articles and chapters published in journals and collective books. I have received awards from the Wilson Center (Washington, DC, 1984), the John Simon Guggenheim Memorial Foundation (2004) and the Wissenschaftskolleg zu Berlin (2008-2009).
Research Concentrations
Latin American History - Historical demography - Historical Geography and Cartography - Social and economic history
Selected Publications
La población de Costa Rica, 1750-2000. Una historia experimental. San José, Editorial Universidad de Costa Rica. 2010, +CDROM.
Los 50 años de la FLACSO y el desarrollo de las Ciencias Sociales en América Latina. San José, FLACSO – Editorial Juricentro, 2008, + CDROM.
Historical Atlas of Central America. (with Carolyn Hall) Cartographer, John V. Cotter. Norman, University of Oklahoma Press, 2003, 405 maps in full color, 140 illustrations.
Breve Historia Contemporánea de Costa Rica. México, Fondo de Cultura Económica ,1997.
Breve historia de Centroamérica. Madrid, Alianza Editorial, 1985; 4th edition, 2000.
English translation: A Brief History of Central America. Berkeley and Los Angeles, University of California Press, 1989. Italian translation: Storia dell'America Centrale. Trad. Chiara Bollentini. Milano, Edizioni Mondo Nuovo, 1990.
Historia económica de América Latina. (with Ciro F.S. Cardoso). Volumen I: "Sistemas agrarios e historia colonial"; Volumen II: "Economías de exportación y desarrollo capitalista". Barcelona, Editorial Crítica, 1979 (1st. ed.), 1999 (4th ed.)
Portuguese translation: Historia economica da América Latina, trad. Fernando Faria, Rio de Janeiro, Ediçoes Graal, 1983.
"Transformaciones del espacio centroamericano". in Romano, Carmagnani y Hernández Chávez (edit.). Para una historia de América Latina II. Los nudos (1). México, Fondo de Cultura Económica, 1999, pp. 55-93.
"América Latina en la transición demográfica, 1800-1980" in La transición demográfica en América Latina y el Caribe. Vol. I, primera parte. México, IV Conferencia Latinoamericana de Población, 1993, pp. 63-92.
"Indians, communists and peasants: the 1932 Rebellion in El Salvador", in Coffee, Society and power in Latin America. Edited by William Roseberry, Lowell Gudmundson and Mario Samper. Baltimore and London, The John Hopkins University Press, 1995, pp. 232-261.
"The Economies of Central America, 1860-1940", in Cárdenas, E, Ocampo, José A. and Thorp, Rosemary (editors). An Economic History of Twentieth-Century Latin America. Volume 1. The Export Age: the Latin American Economies in the Late Nineteenth and Early Twentieth Centuries. Houndmills, Palgrave, 2000, pp. 85-118.
"Malthus in Latin America: Demographic Responses durign the Nineteenth and Twentieth Centuries" (With Alberto Palloni and Elizabeth Arias) in T.Bengtsson and O.Saito (editors). Population and Economy. From Hunger to Modern Economic Growth. Oxford, Oxford University Press, 2000, pp. 213-254.
"La población" in UNESCO, Historia General de América Latina, vol. VI. Edit. Josefina Zoraida Vázquez, Madrid, Editorial Trotta, 2004.
"Les populations indiennes de l'Amérique latine en tant que minorités ethniques. Vue depuis l'Amérique centrale." In G.Brunet, M. Oris et A. Bideau (eds). Les minorités. Une démographie culturelle et politique, XVIIIe-XXe siècles. Berne, Peter Lang S.A. 2004. pp. 371-397.
"Secesión, Independencia y revolución, 1808-1826. ¿Qué nos enseña el caso de Centroamérica?" in Alvarez Cuartero, Izaskún; Sánchez Gómez, Julio. (Eds.) Visiones y Revisiones de la Independencia americana. México, Centroamérica y Haití. Salamanca, Ediciones Universidad de Salamanca, Aquilafuente, 2005, pp. 93-106.
"La demografía histórica en América Latina". In UNESCO. Historia General de América Latina, vol IX (edit. Estebao de Rezende Martins y Héctor Pérez Brignoli). Madrid, Editorial Trotta, 2006, pp. 103-118.