>

Home

>

Prof. Dr. Ekaterina Svetlova
Prof. Dr. Ekaterina Svetlova
Vita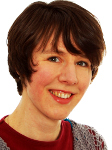 Seit 2011 Professorin für International Business und Finanzen, Karlshochschule International University, Karlsruhe
2006–2011 wissenschaftliche Mitarbeiterin, Zeppelin University, Friedrichshafen
2004–2007 Promotion (Dr. phil.) an der FernUniversität Hagen
2004–2005 Wissenschaftliche Hilfskraft, Christian-Jakob-Kraus-Institut für Wirtschafts- und Sozialphilosophie, Lehrstuhl für praktische Philosophie, FernUniversität in Hagen
1997–2003 Portfoliomanagerin und Aktienanalystin beim Deutschen Investment Trust (DIT) in Frankfurt/Main
Forschungsschwerpunkte
Wirtschaftssoziologie/Wirtschaftsphilosophie
Soziologie der Finanzmärkte (Social Studies of Finance)
Social Studies of Science and Technology (Schwerpunkt: Soziologie und Philosophie des mathematischen Modellierens)
Theorien von Risiko und Unsicherheit in den Wirtschafts- und Geisteswissenschaften
Methoden der empirischen Sozialforschung (Schwerpunkt: qualitative Methoden)
Ausgewählte Publikationen
De-idealization by commentary: the case of financial valuation models (2013). In: Synthese: An International Journal for Epistemology, Methodology and Philosophy of Science 190(2), 321–337.
How is non-knowledge represented in economic theory? (2013). In: Birger Priddat and Alihan Kaballak (eds.), Ungewissheit als Herausforderung für die ökonomische Theorie: Nichtwissen, Ambivalenz und Entscheidung, Marburg: Metropolis, 41–72 (with Henk van Elst).
On the Performative Power of Financial Models (2012). In: Economy and Society 41 (3), 418–434.
Talking About the Crisis: Performance of Forecasting in Financial Markets (2012). In: Culture and Organization 18 (2), 155–169.
Understanding Crisis: On the Meaning of Uncertainty and Probability (2011). In: Oscar Dejuan Asenjo und Crisitina Marcuzzo (eds.), The Recession of 2008. Competing explanations, Camberley, UK: Edward Elgar publishing, 42–62 (with Matthias Fiedler).
Plausibility check of consensus: Expectation building in financial markets (2010). In: Journal of Financial and Economic Practice 10 (1), 101–113.
Sinnstiftung in der Ökonomik: Wirtschaftliches Handeln aus sozialphilosophischer Sicht (Sensemaking in Economics) (2008), Bielefeld: transcript.