Prof. Dr. Daniel Thym, LL.M. (London)
Vita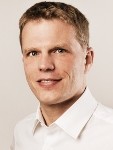 Daniel Thym studierte Rechtswissenschaften in Regensburg, Paris X sowie an der Humboldt-Universität zu Berlin. Als langjähriger Mitarbeiter des Walter-Hallstein-Instituts für Europäisches Verfassungsrecht wurde er an der HU Berlin mit einer Arbeit zum Europa der verschiedenen Geschwindigkeiten im Jahr 2004 promoviert. Seine Habilitationsschrift trägt den Titel "Migrationsverwaltungsrecht".
In London absolvierte Thym einen Masters und baute als erster Postdoktorand das Berliner Graduiertenkolleg "Verfassung jenseits des Staates" mit auf. Im Oktober 2010 übernahm Thym als Nachfolger von Professor Kay Hailbronner den Lehrstuhl für öffentliches Recht, Europa- und Völkerrecht an der Universität Konstanz und ist seither Kodirektor des dortigen Forschungszentrums Ausländer- und Asylrecht (FZAA).
Regelmäßig publiziert Daniel Thym in deutsch- und englischsprachigen Fachzeitschriften zum Europa- und Migrationsrecht und ist Gast auf internationalen Konferenzen. Seit 2006 ist er Mitherausgeber des "European Law Journal – Review of European Law in Kontext" sowie seit 2011 der "Zeitschrift für Ausländerrecht und Ausländerpolitik".
Er nimmt regelmäßig Stellung zu aktuellen Fragen der Migrationspolitik, etwa als Sachverständiger im Innenausschuss des Deutschen Bundestages und ist Mitglied im europäischen Forschernetzwerk "Odysseus – Academic Network für Legal Studies on Immigration and Asylum Law".
Forschungsschwerpunkte
Deutsches, europäisches und internationales Migrationsrecht, insbesondere Einwanderung, Asyl, Grenzschutz, Staatsangehörigkeit, Integration
Europäische Verfassungsentwicklung, insbesondere Grundrechte und Außenpolitik
Funktion innerhalb des Exzellenzclusters
Maßgeblich beteiligter Wissenschaftler
Fellow am Kulturwissenschaftlichen Kolleg Konstanz (April–September 2016, Oktober 2014–März 2015)
Forschungsprojekt "Migrant und Staatsverwaltung: Fremder – Kunde – Bürger?"
Abstract
Ausgewählte Publikationen
EU Immigration and Asylum Law. Commentary, 2. Auflage (C.H. Beck/Hart/Nomos, 2016), gemeinsam mit Kay Hailbronner.
Ambiguities of Personhood, Citizenship, Migration and Fundamental Rights in EU Law, in: Loïc Azoulai/Ségolène Barbou des Places/Etienne Pataut (Hrsg.): Constructing the Person. Rights, Roles, Identities in EU Law (Hart, 2016), im Erscheinen.
Citizens and Foreigners in EU Law. Migration Law and Its Cosmopolitan Outlook, European Law Journal 22 (2016), im Erscheinen.
Zustand und Zukunft der deutschen Europarechtswissenschaft, Europarecht 2015, 671-702.
Vereinigt die Grundrechte!, Juristenzeitung 2015, 53-63.
Residence as de facto Citizenship? Protection of Long-Term Residence under Article 8 ECHR, in: Ruth Rubio-Marin (Hrsg.): Human Rights and Immigration (OUP, 2014), S. 106-144.
Towards International Migration Governance? The European Contribution, in: Bart Van Vooren/Steven Blockmans/Jan Wouters (Hrsg.): The EU's Role in Global Governance. The Legal Dimension (OUP, 2013), S. 289-305.
EU Migration Policy and its Constitutional Rationale. A Cosmopolitan Outlook, Common Market Law Review 50 (2013), 709-736.
Migrationsverwaltungsrecht. Ius Publicum: Band 188 (Mohr Siebeck, 2010).
Auswärtige Gewalt, in: Armin von Bogdandy/Jürgen Bast (Hrsg.): Europäisches Verfassungsrecht, 2. Auflage (Springer, 2009), S. 441-488.
Respect for Private and Family Life under Article 8 ECHR in Immigration Cases: A Human Right to Regularise Illegal Stay?, International and Comparative Law Quarterly 57 (2008), 87-112.
Einblicke
Wer darf bleiben, wer nicht?
Prof. Dr. Daniel Thym analysiert die Regeln der europäischen Migrationspolitik. Vortrag nachhören