Prof. Dr. Benjamin Zyla
Vita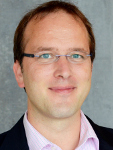 Since 2017 Young Researcher Award 2017, Faculty of Social Sciences, University of Ottawa
Since 2017 Associate Professor, School of International Development & Global Studies, University of Ottawa
2016 Runner-up, Best Book Award, Transatlantic Studies Association (TSA)
Since 2016 Senior Researcher, Canadian Network for Research on Terrorism, Security, and Society (TSAS)
Since 2015 Senior Fellow, Austrian Institute for Europe and Security Policy (AIES), Vienna, Austria
2015 Monograph Sharing the Burden? NATO and its Second-Tier Powers was listed on The Hill Time's top-100 books in 2015 (rank 70)
Since 2014 Research Co-Director, Failed States Research Network, Centre for International Policy Studies, University of Ottawa
2014 Monograph Sharing the Burden? NATO and its Second-Tier Powers was listed on The Hill Time's top-100 books in 2014 (rank 72)
2011–2017 Assistant Professor, School of International Development & Global Studies, University of Ottawa
2009 Visiting Scholar, The Europe Centre, Freeman Spogli Institute for International Studies, Stanford University, California, USA (June-July)
2009–2011 Postdoctoral Fellow, Centre for International Relations, Queen's University, Canada; funded by the Social Sciences and Humanities Research Council of Canada (SSHRC)
2007–2008 Postdoctoral Fellow, Centre for International Relations, Queen's University, Canada; funded by Ronald B. Byers Postdoctoral Award, Government of Canada
2007 Ph.D. in International Security, Royal Military College of Canada
2003 M.A. in Political Science, Carleton University, Ottawa
2002 B.A. (Hon.) in Social Sciences, Uppsala University, Sweden
2000 Vordiplom (B.A.) in Social Sciences, University of Göttingen, Germany
Research concentrations
Fragile States, Peacekeeping and Postwar State-building: Post-conflict reconstruction; security/development nexus; human security; humanitarian interventions; R2P
Global Governance: International organizations (NATO; EU; UN)
General foreign policy analysis
Selected Publications
Zyla, B. and Kammel, A., Peacebuilding at Home. NATO and its 'new' Member States after Crimea (Baden-Baden: Nomos 2018).
Zyla, B., Sharing the Burden? NATO and its Second-tier powers (Toronto: University of Toronto Press, 2015). 100.000 words, 25 Tables; Paperback: ISBN 9781442615595; Hardback: ISBN 9781442647503.
(lead article) Zyla, B. "NATO burden sharing: A new research agenda", Journal of International Organizations Studies (JIOS) vol. 7, no. 2 (2016), pp. 5-22. online
(lead article) Zyla, B. "Who is keeping the peace and who is free-riding? NATO Middle Powers and Burden Sharing, 1995-2001" International Politics vol. 53, no. 3 (2016), pp. 303-323; doi: 10.1057/ip.2016.2
Zyla, B. "Who is free-riding in NATO's peace operations in the 1990s?" International Peacekeeping vol. 23, no 3 (2016), pp. 416-441. online
(lead article) Zyla, B. "Untying the Knot? Assessing the compatibility of the American and European strategic culture under President Obama" Innovation: European Journal of Social Science Research vol. 28, no. 2 (2015), pp. 1-23; doi: 10.1080/13511610.2015.1024637
Zyla, B. (50%) & Schofield, J., "The AfPak Campaign and the Limits of Canadian Diplomacy", Diplomacy & Statecraft vol. 25, no. 3 (2014), pp. 509-528.
Zyla, B. (70%), and Kammel, A., "The EU's role in African security governance", in Samuel Kale Ewusi and Jean Bosco Butera Beyond State-Building: Confronting Africa's Governance and Socio-economic Challenges in the 21st Century (San Jose, Costa Rica: University for Peace Africa Programme, 2014), pp. 81-98. online
Zyla, B., "Explaining Canada's practices of burden sharing in ISAF through its norm of 'external responsibility'", International Journal: Canada's Journal of Global Policy Analysis vol. 68, no. 2, Summer 2013, pp. 289-304.
Zyla, B. (70%) & Kammel, A., "Practising EU Security Governance in the Transatlantic Context: A Fragmentation of Power or Networked Hegemony?" Journal of Contemporary European Research vol. 9, no. 4 (2013), pp. 440-459.
Zyla, B. "Overlap or Opposition? EU and NATO's Strategic (Sub-)Culture", Contemporary Security Policy vol. 32, no.3 (2011), pp. 667-687.
Zyla, B. "Außenpolitisches Selbstverständnis der BRD nach 9/11", WeltTrends: Zeitschrift fuer Internationale Politik [Journal of International Politics], Heft 74 (September/October 2010), pp.105-108.
-- republished in Azadeh Zamirirad. Deutsche Interessen: Eine außenpolitische Debatte (Potsdam: Universitätsverlag Potsdam, 2011), pp. 38-41. online